For your safety, Family Care Network clinics have additional measures in place to reduce the risk of coronavirus exposure. If you need medical care for a minor illness or injury, FCN Urgent Care is here for you seven days a week.
Our Urgent Care in Lynden, with onsite lab and x-ray service, offers same-day care for minor illness and injuries. Urgent Care is also available in Bellingham and Mount Vernon.
Patients are typically seen on a first come, first served basis (no appointments), in the order that they arrive. However, a patient with a more urgent medical concern may be seen out of order. Please be patient in these situations. Your care is important to us, and you will be seen as soon as possible.
Check in begins 15 minutes before opening.
We accept most major medical insurance plans. All urgent care locations are open to FCN and non-FCN patients.
We can also see you via telemedicine. Go to On-Demand Telemedicine>> to learn more.
Urgent Care is a lower-cost alternative to the emergency room, with shorter wait times and a calmer setting to treat issues such as:
Cold and flu symptoms (fever, sore throat, cough, etc.)
Sprains and strains
Possible fractures
Work-related injuries
Headache
Eye or ear infection
Sinus pain
Nausea
Back pain
Minor cuts, scrapes or burns
Minor abdominal or pelvic pain
Urinary discomfort or symptoms
Questions? For more information, read Family Care Network's Urgent Care FAQ.
Life-threatening emergencies should be seen at the hospital, or dial 911. This includes difficulty breathing, heart attack/stroke, extremely high fever, severe trauma or open fracture (broken bone protruding through the skin), uncontrolled bleeding, poisoning, severe pain, major burns and other serious medical issues.
Sports clearance, CDL certification, and routine vaccinations are not available at Urgent Care. Please call your regular doctor to schedule an appointment.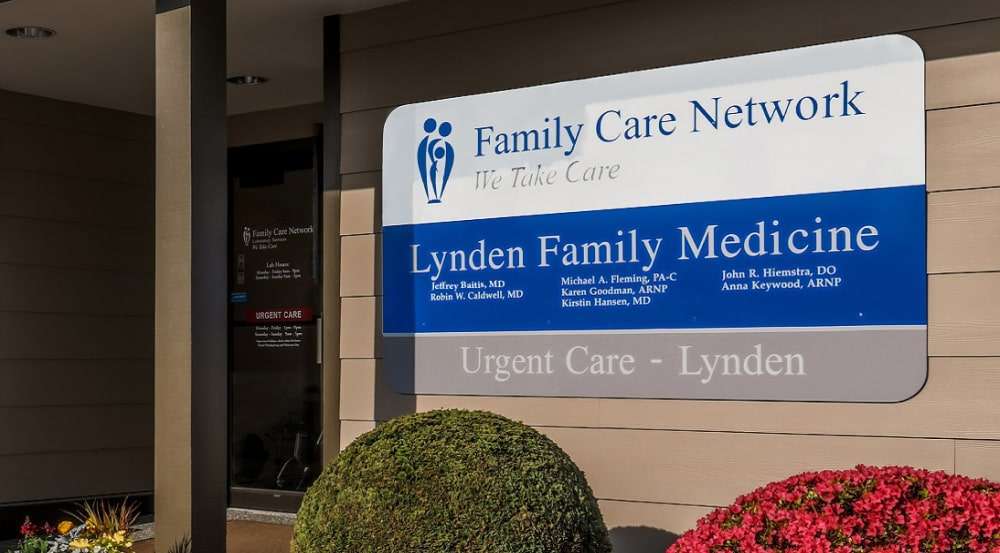 In-Person Urgent Care
Estimated Wait
1h:0m
Last updated 08 hr 54 min 13 sec ago
Lab services are on site and available during urgent care hours.
Closed
Sun: 9:00 am - 5:00 pm
Mon-Fri: 1:00 pm - 9:00 pm
Sat: 9:00 am - 5:00 pm

On-Demand Telemedicine
Closed
Sun: 9:00 am - 5:00 pm
Mon-Fri: 8:00 am - 9:00 pm
Sat: 9:00 am - 5:00 pm

Contact Info
Urgent Care - Lynden
1610 Grover Street, Suite D-1
Lynden, WA 98264
Phone: (360) 354-4567
Fax: (360) 714-3146
Hours
Mon - Fri: 1:00pm - 9:00pm
Sat - Sun: 9:00am - 5:00pm
Closed Thanksgiving and Christmas Day
Lab - Lab draws are by appointment. Walk-ins welcome as space allows. 
Schedule Online
Lab Hours:
Mon - Fri: 8:00am - 9:00pm
Sat - Sun: 9:00am - 5:00pm
Closed Sat - Sun 12:30pm - 1:00pm